About Us
Shanghai Garden is a Chinese takeaway in Sheffield. Why don't you try our Mixed Vegetable Chow Mein or Shrimp Omelette?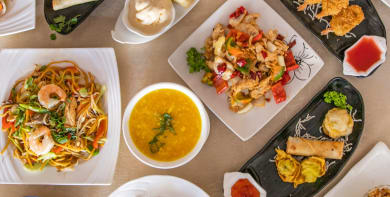 Reviews
193 reviews
Holly
"The best Chinese takeaway in Sheffield! Always great food and great value for money."
24/06/2020
caroline
"Really tasty"
20/06/2020
Jon
"Great chinese food and always excellent service"
13/06/2020
Hannah
"Food was excellent, would order again. Especially liked the crispy beef in chilli sauce and crispy seaweed."
12/06/2020
Menu
Shanghai Garden House Special Hofan
£6.30
Singapore Style (Dry) Hofan
£5.80
Fish With Mixed Vegetables
£5.60
Fish With Ginger & Spring Onions
£5.60
Hot & Sour Soup Regular (Hot)
£3.30
Hot & Sour Soup Vegetarian
£3.30
Chicken & Sweet Corn Soup
£3.10
Crab Meat & Sweet Corn Soup
£3.10
Seafood Tom Yam Soup
Large
£4.70
Chicken Tom Yam Soup
Large
£4.50
Value Meal Special
King prawn, duck & seafood 
Included fried rice or noodle
& 1 Free can of coke
£7.50
Value Meal Regular
Main dish (from 83 to 201)
Included fried rice or noodle
& 1 Free can of coke
£6.50
Roast Pork With Green Pepper In Black Bean Sauce
£5.30
Roast Pork With Mushroom In Black Bean Sauce
£5.30
Roast Pork With Bamboo Shoots & Water Chestnuts
£5.30
Roast Pork With Ginger & Spring Onions
£5.30
Roast Pork With Mushrooms
£5.30
Roast Pork With Cashew Nuts
£5.40
Roast Pork With Mixed Vegetables
£5.30
Set Meal A
For 1 Person
Chicken corn soup
Chicken curry or sweet & sour chicken balls
Fried rice
£9.00
Set Meal B
For 2 Person
Peking sauce spare ribs
Chicken with mushrooms
Crispy shredded beef
Yung chow fried rice x 2
£19.50
Set Meal C
For 3 Person
One quart aromatic crispy duck
Beef with green pepper in black bean sauce
Sweet  & sour chicken (Hong Kong style)
King prawns in oyster sauce
Fried rice x 3
£29.50
Set Meal D
For 4 Person
Half aromatic crispy duck
Beef with green pepper in black bean sauce
Crispy shredded chicken
Duck with ginger & spring onions
Stir fried mixed vegetables
Yung chow fried rice x 4
£44.00
Thai Red Curry Prawn
A spicy red curry based on red curry paste, coconut milk, bamboo shoots, chilli, Thai herbs & sweet green peppers
£5.30
Thai Red Curry Chicken
A spicy red curry based on red curry paste, coconut milk, bamboo shoots, chilli, Thai herbs & sweet green peppers
£4.80
Thai Red Curry Beef
A spicy red curry based on red curry paste, coconut milk, bamboo shoots, chilli, Thai herbs & sweet green peppers
£5.40
Thai Red Curry Special
A spicy red curry based on red curry paste, coconut milk, bamboo shoots, chilli, Thai herbs & sweet green peppers
£5.80
Chicken In Szechuan Sauce
£5.30
Roast Pork In Szechuan Sauce
£5.30
King Prawn In Szechuan Sauce
£5.80
Special In Szechuan Sauce
£5.80
Bean Curd In Szechuan Sauce
£5.30
Gourmet Combination Of Delicious Starters
For 2 person
Mini spring rolls, chicken wings, sesame prawn on toast. Crispy wonton spare ribs, samosa & crispy seaweed. Served with sweet & sour sauce
£8.00
Aromatic Crispy Duck Quarter (10 Pancakes)
Served with pancakes, cucumber, spring onions & Hoisin sauce
£8.30
Aromatic Crispy Duck Half (20 Pancakes)
Served with pancakes, cucumber, spring onions & Hoisin sauce
£14.80
Aromatic Crispy Lamb
Served with pancakes, cucumber, spring onions & Hoisin sauce
£8.50
Vegetarian Spring Roll (10)
£3.30
Sesame Prawn On Toast (8)
£4.80
Deep Butterfly King Prawns (8)
£5.20
Satay Chicken On Skewers (5)
With peanut sauce
£5.20
Satay King Prawn On Skewers
With peanut sauce
£5.80
Chicken Wings With BBQ Sauce
£5.00
Salt & Pepper Chicken Wings
£5.00
Spare Ribs With Black Bean Sauce
£5.60
Salt & Pepper King Prawn With Chilli
£5.80
Salt & Pepper Squids With Chilli
£5.80
Salt & Pepper Chicken With Chilli
£5.30
Salt & Pepper Bean Curd With Chilli
£5.20
Salt & Pepper Chicken Balls
£5.30
Salt & Pepper Platter
chicken wings, chicken balls, spareribs & chips
£9.00
Shanghai Garden House Special Chow Mein
£5.80
Singapore Style Fried Chow Mein
£5.80
Singapore Style Fried Vermicelli
£5.60
Mixed Vegetable Chow Mein
£5.00
Shanghai Garden House Special Udon
£6.30
Singapore Style (Dry) Udon
£5.80
Roast Chicken With Chips & Gravy Sauce
£5.40
Duck With Green Pepper In Black Bean Sauce
£5.80
Duck With Mushroom In Black Bean Sauce
£5.80
Duck With Bamboo Shoots & Water Chestnuts
£5.80
Duck With Ginger & Spring Onions
£5.80
Duck Slices In Hot Peking Sauce
£5.80
Crispy Shredded Chicken in Chilli Sauce
£5.50
Chicken With Green Pepper In Black Bean Sauce
£5.30
Chicken With Mushroom In Black Bean Sauce
£5.30
Chicken With Ginger & Spring Onions
£5.30
Chicken With Bamboo Shoots & Water Chestnuts
£5.30
Chicken With Mixed Vegetables
£5.30
King Prawns With Cashew Nuts
£5.90
King Prawns With Mixed Vegetables
£5.80
King Prawns In Oyster Sauce
£5.80
King Prawn With Green Pepper In Black Bean Sauce
£5.80
King Prawn With Spring Onion & Ginger
£5.80
King Prawns With Bamboo Shoots & Water Chestnuts
£5.80
King Prawns With Mushrooms
£5.80
Squid With Ginger & Spring Onions
£5.80
Squid With Green Peppers In Black Bean Sauce
£5.80
King Prawns With Tomatoes
£5.80
King Prawns With Broccoli
£5.80
Crispy Shredded Beef in Chilli Sauce
£5.60
Beef With Green Pepper In Black Bean Sauce
£5.40
Beef With Mushroom In Black Bean Sauce
£5.40
Beef With Bamboo Shoots & Water Chestnuts
£5.40
Beef With Ginger & Spring Onions
£5.40
Beef With Mixed Vegetables
£5.40
Wondering Dragon
Chicken, beef, king prawn, roast pork & duck in black bean sauce
£6.00
Braised Aubergines & Minced Pork
In hot garlic sauce
£6.00
Yuxiang Shredder Pork In Spicy Garlic Sauce
£6.00
Village Style Fried Sliced Belly Pork
With green beans
£7.30
Fried Spicy Chicken Pieces
£7.80
Sweet & Vinegar Spare Ribs
£6.30
Fried Spare Ribs With Garlic & Dry Chilli
£7.80
Pork Chops In Black Pepper Sauce
£6.30
Pork Chops With Onions In Oyster Sauce
£6.30
Pork Chops In Salt & Chilli
£6.30
Pork Chops In Honey Sauce
£6.30
Pork Chops In Cantonese Sauce
£6.30
Beef Fillets Slices In Hot & Spicy Sauce
£8.30
Fish Fillets Slices In Hot & Spicy Sauce
£9.30
Fish Slices With Preserved Vegetable In Broth
£9.30
Spicy Stir Fried Beef Slices
£8.30
Spicy Stir Fried King Prawns
£8.30
Spicy Stir Fried Chicken Pieces
£8.30
Happy Family
Chicken, beef, king prawn, roast pork in oyster sauce
£6.00
Fried Rice & Chips In Curry Sauce
(Or other sauce)
£3.50
Fried Rice With Any Sauce
£3.00
Bean Curd With Green Pepper In Black Bean Sauce
£5.20
Bean Curd With Sweet & Sour Sauce
£5.20
Mushrooms With Green Pepper In Black Bean Sauce
£4.80
Stir Fried Mixed Vegetables
£4.80
Broccoli With Oyster Sauce
£5.30
Shanghai Garden House Special Fried Rice (Sauce)
£5.80
Mixed Seafood Fried Rice (Sauce)
£5.80
Singapore Style Fried Rice
£5.80
Singapore Style Vegetarian Fried Rice
£5.30
Mixed Vegetable Fried Rice
£4.60
Roast Pork In Satay Sauce
£5.30
King Prawn In Satay Sauce
£5.80
Sweet & Sour Chicken Balls
£5.30
Sweet & Sour King Prawn Balls
£5.80
Sweet & Sour Chicken (Hong Kong Style)
£5.30
Sweet & Sour Pork (Hong Kong Style)
£5.30
Sweet & Sour King Prawn (Hong Kong Style)
£5.80
Sweet & Sour King Prawn & Chicken Balls
£5.60
Sweet & Sour Mushroom Balls
£5.00
Contact Us
Find Us
52 Upperthorpe Road, Sheffield, S63EB
We deliver to
S1, S10, S11, S2, S3, S4, S5, S6, S7